Check-in Luggage
When travelling with TUI fly bagage is not included in the price of the ticket. For babies 10 kg baggage is allowed. The luggage transported per person is limited to the weight specified on the ticket. Excess weight will be charged by the airline at check-in.
The baggage transported may consist of one or more suitcases. Please keep in mind that a piece of baggage may weigh maximum 32 kg. The weight of a travelling case is limited to 32 kg. The maximum baggage dimensions are 80 x 60 x 25cm, but the total dimensions may never exceed 158cm.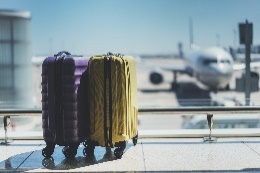 Some useful advise when packing:
Use name and address labels for your luggage.
Put all liquids, pastes and gels in your check-in luggage
Do not put valuable items in your check-in luggage
Only pack your own personal items. Do not accept luggage items from third parties
The following objects are prohibited in check-in baggage:
Explosives, including detonators, primers, grenades, mines and explosives
Gas, propane, butane
Inflammable liquids, including petrol and methanol
Inflammable solids and reactive substances, including magnesium, fire-lighters, fireworks and signal flares
Oxidants organic peroxides, including bleach and body repair kits
Toxic or infectious substances, including rat poison and infected blood
Cabin/hand luggage
Please check with your airline for the quantity, dimensions and maximum weight of cabin luggage. Each passenger over the age of 2 years old is allowed to carry 1 piece of hand baggage up to 10 kg.
The maximum dimensions of the hand baggage are 55 x 40 x 20cm, but the total dimensions may never exceed 115cm.
Liquids, pastes and gels
As of 6 November 2006 all passengers within the European Union (EU) are subject to new security rules for cabin/hand baggage. Liquids are only permitted in small quantities and can only be taken on board provided they are correctly packaged.
Some useful tips for your hand luggage:
Use name and address labels for your cabin luggage
Do not pack liquids, pastes and gels that contain more than 100 ml. Liquids, pastes and gels exceeding this amount need to be removed out of the cabin luggage. The approved liquids, pastes and gels need to be placed in a single transparent bag per passenger, closed by a zip, with a maximum capacity of one liter.
The following objects are prohibited in cabin baggage:
Liquids, pastes and gels in containers of more than 100 ml
Revolvers, firearms and weapons
Knives (incl. swiss knives) and sharp objects
Explosive and inflammable substances
Chemical and toxic substances
Baby food & Medication
For babies and small children prepared foods are allowed in the cabin. Infants under two years old are not allowed to carry hand baggage, so these foods are considered to form part of the hand baggage of the adults travelling with the baby. Baby food can be heated up during the flight.
Extra baggage as overweight above the normal baggage is not possible for babies.
Left luggage
Travellers are requested to keep their luggage with them at all times. Luggage left unattended in the airport building will be removed and may be destroyed.