VLM to launch new routes from Manchester to Antwerp and Ostend-Bruges on 1st October 2018
Tuesday 24 April 2018
Manchester to Antwerp: Two daily flights on weekdays and one daily flight during weekends
Daily flights between Manchester and Ostend-Bruges
VLM will serve the Manchester-Antwerp and Manchester-Ostend/Bruges routes from 1st October 2018. It is the first time that Manchester will have a direct flight to Ostend-Bruges, offering passengers easy access to the stunning, medieval city of Bruges. The airline will operate the Ostend-Bruges service once a day. Additionally, VLM will serve Antwerp twice daily Monday to Friday, with daily flights over the weekend. Tickets are already available from GBP 39* (one way, including airport taxes) via www.flyvlm.com.
"We are very happy to re-establish the Manchester – Antwerp route. Antwerp is not only Europe's second largest seaport and the world's diamond capital, the city also has the second largest petrochemical cluster in the world after Houston, Texas. The city is also renowned for its thriving fashion, cultural, culinary and heritage scene", says Konstantijn Huys, Commercial Director of VLM.
He added: "Passengers flying to Ostend-Bruges Airport are within 20 minutes in the medieval city centre of Bruges, also often referred to as the 'Venice of the North'. Bruges-Ostend Airport is also the perfect gateway for a visit to Flanders Fields, where so many young people sacrificed their lives during WW1. In the lead up to 11th November there will be numerous centennial events in West-Flanders commemorating the end of the Great War."
Marcel Buelens, CEO of Antwerp International Airport and Ostend-Bruges International Airport, commented: "The new flights to Manchester from both Antwerp and Ostend are a continuation of our intentions to offer as many business destinations as possible from the Flemish regional airports. One should also see the new connections in the context of Brexit and our belief that Britain will remain a good market for Flemish entrepreneurs. Of course we may not forget the football stars at ManU and Manchester City. Several Flemish supporter clubs put in buses weekly to attend matches. Air transport is now made possible thanks to very affordable prices. We wish VLM a lot of success with this new chapter."
Luc Abbeloos, director of marketing Westtoer (Tourism Office of West-Flanders), stated: "The flights from Manchester are excellent news. About 60% of all Britons who visit Flanders come to West Flanders, resulting in approximately 730,000 overnight stays of British tourists each year, with Bruges and Flanders Fields leading the way. Thanks to the new route from Manchester, these places will become even more accessible to millions of British visitors. "
Julian Carr, Aviation Director for Manchester Airport, said: "We're delighted to see VLM coming back to Manchester to re-connect the airport with Antwerp and also launch services to Ostend-Bruges. Both destinations are perfect for city breaks and I'm sure they'll prove hugely popular with the 22 million people in our catchment area."
About VLM
VLM Airlines employs more than 100 aviation professionals. The fleet consists of 6 Fokker 50 turboprop aircraft. VLM Airlines offers scheduled flights from Antwerp to Aberdeen, Birmingham, Cologne-Bonn, London City Airport, Munich, Rostock, Zurich and Maribor.
www.flyvlm.co
* Promotional fare valid from 24th to 30th April for travel from 1st to 27th October 2018
New route Manchester – Antwerp Airport from 1 October 2018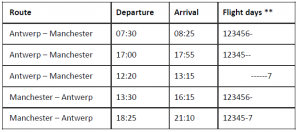 New routes Manchester – Ostend-Bruges Airport from 1st October 2018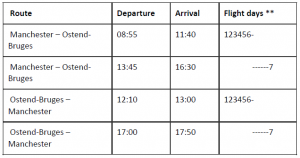 ** 1 = Monday, 2 = Tuesday, 3 = Wednesday, 4 = Thursday, 5 = Friday, 6 = Saturday, 7 = Sunday.